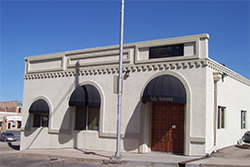 NorthStar Engineering & Surveying, Inc., Pueblo, CONorthStar Engineering and Surveying, Inc., in Pueblo Co., is a privately owned, full service civil engineering and surveying firm. Call today, 719-544-6823. NorthStar was created in May 1996 with the purchase of KLH Engineering of Pueblo, Inc. NorthStar and its predecessor firms (see below) have been providing quality engineering, design, consulting, and surveying services in Colorado and New Mexico continually since 1939. The firm's highly competent staff of engineers, surveyors, computer designers, and construction inspectors comprise a team of total project services from initial master planning, surveying, and analysis through final design, construction management, and construction surveys.

NorthStar and its predecessor firms (KLH Engineering, Inc. – 1976 to 1996; Genge, Inc. – 1975 to 1976; McIntire & Quiros, Inc. – 1971 to 1975; Elliot and Associates, Inc. – 1946 to 1971; and Blackburn Engineering – 1939 to 1946) have a long history of providing engineering, surveying, master planning, and construction management services to various municipal, special district, private, and governmental agencies in Colorado and New Mexico. Long working relationships with local officials, city and county engineers and staff as well as various state and federal agencies gives NorthStar unique knowledge of important issues affecting our local clients' projects.
Office Location and Hours
111 E. 5th Street
Pueblo, CO 81003
(719) 544-6823
Hours:
Monday - Thursday: 8 a.m. – 5 p.m.
Friday: 8 a.m. - NOON

NorthStar Testimonials
Latest News
Check back here for the most recent news or ongoing projects by NorthStar Engneering and Surveying, Inc.