Surveying and Staking Projects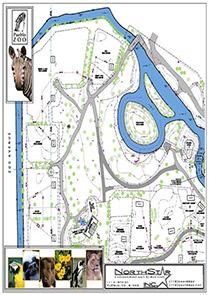 Project
Name:
Pueblo Zoo Topographic and Improvements Mapping

Location:
Pueblo, Colorado
Owner/
Client:
Pueblo Zoological Society,
Jonnie McFarland, Zoo Coordinator, (719) 561-1452
Project Description:
NorthStar Engineering and Surveying, Inc. was hired by the Pueblo Zoological Society to complete detailed Boundary, Topographic, and Improvement Surveys of their 25 acre site in Pueblo, Colorado. Survey included locations of all under- ground utilities including irrigation system and utility service lines as well as all surface improvements including structures, caging, sidewalks, fencing, landscaping, wetlands, water features, drainage improvements, above ground utilities, etc. NorthStar then prepared a final improvements drawing with each improvement layered in electronic files for the Client's use in identifying and completing improvements to various utilities and facilities.
---
Project
Name:
City of Pueblo North Interceptor Wastewater Improvements Project
Location:
Pueblo, Colorado
Owner/
Client:
City of Pueblo, Black & Veatch, Inc.
Mr. Kent Williams (719) 553-2271
Project Description:
Preparation of a 150' wide strip topographic survey along the east and west sides of I-25 between U.S. Highway 50 West and 28th Street, then proceeding through residential streets, the City of Pueblo's Mineral Palace Park and continuing to 2nd Street in Downtown Pueblo. Black & Veatch hired NorthStar to locate all improvements, including existing sanitary sewer invert elevations, and create a topographic map of the entire site consisting of approximately seven miles.
---
Project
Name:
Sanitary Sewer Outfall and Collection System
Location:
Pueblo County, Colorado
Owner/
Client:
St. Charles Mesa Sanitation District,
Mr. John Naylor, board Attorney (719) 543-7243
Project Description:
Pre-design topographic and improvements survey for and final design of approximately 177,000 linear feet of sanitary sewer collection system and outfall system piping. Project was designed to serve approximately 5000 acres of rural/suburban development in Pueblo County, Colorado.
---
NorhtStar has completed detailed surveying and/or construction staking projects for the following clients which are not listed elsewhere:
State of Colorado Department of Corrections
Denver Women's Correctional Facility
Colorado Mental Health Institute – Pueblo
East Canon City Prison Complex
Buena Vista Correctional Facility
San Carlos Correctional Facility
Trinidad Correctional Facility
Fremont County Correctional Facility
Four-Mile Correctional Facility
State of Colorado Department of Transportation
Salt Creek Bridge Replacement
Santa Fe & Highway 78 Improvements
I-25 Improvements at the Illex Interchange
Pueblo Blvd/State Highway 45 Widening
Maintenance Facility Expansions and New Sand Sheds at various locations including Pueblo, Limon, Fairplay, Alma, and Fountain, Colorado
City of Pueblo
2400 Acre Honor Farm Annexation
Municipal Airport Improvements
Historic Arkansas Riverwalk Project
Pueblo Fire Station No. 4
Various Urban Renewal Projects
Southern Delivery System Outfall Facilities at Lake Pueblo Reservoir for Colorado Springs Utility Department
Transportation Technology Center Railroad Improvements, Pueblo, Colorado
Air Force Academy Utility Improvements, Colorado Springs, Colorado
Sterling Municipal Airport, Sterling, Colorado
Peterson Field Utility and Roadway Improvements, Colorado Springs, Colorado
Shriever Air Force Base, Colorado Springs, Colorado
Milestone Engineering for the Florence Federal Prison, Florence, Colorado
Manitou Springs Utility Improvements, Manitou Springs, Colorado
Fed Ex Distribution Center, Pueblo, Colorado
Pueblo Nature Center, Pueblo, Colorado
16th Street Mall Utility Improvements, Denver, Colorado
Pueblo Housing Authority, Pueblo, Colorado
Roselawn Cemetery, Pueblo, Colorado
Imperial Memorial Gardens, Pueblo, Colorado
Wells Fargo Bank, Pueblo, Colorado
Wackenhut Corporation – Private Prison Facility in Pueblo, Colorado
Belmont Shopping Center, Pueblo, Colorado
Broadacre Landfill, Pueblo, Colorado
Pueblo Bottling Company, Pueblo, Colorado